Career Guidance
Careers education forms a continuous thread throughout a student's time at Carre's. It aims to provide a framework within which each can develop the self-awareness and experience necessary to make balanced decisions at each stage during their time at the school and, hopefully, after they leave.
Carre's Careers Education & Guidance Programme begins when pupils join in Year 7 at aged 11/12. It aims to provide increasing contact with the world outside throughout a student's time at school and to help reach those decisions which affects their future in as well informed and balanced a way as possible. Every encouragement is given to discuss the various options with the Heads of Key Stage, Tutor and the Careers Staff.
Careers Leader
Mr I Scholefield
+44 (0) 1529 302181
The Careers Centre
This is particularly well resourced with relevant informative material making full use of internet access about future jobs and Higher Education opportunities. Early and regular visits to the Centre are vital. The Centre based within the LRC is open during the daytime every day and for pupils to research and explore their interests. In addition there are various computer programmes which students can use both to determine Higher Education courses that match their interests and abilities and to look more widely at future careers. Every encouragement is given for regular visits to be made to the Centre during a student's time at Carre's and parents are more than welcome to use the resources.
School Careers Guidance
Throughout Key Stage 3, work is done to raise self-awareness and help decision-making in the build-up towards making GCSE option choices. There are also elements of career development in the Personal, Social and Health Education (PSHE) work.
During the Lent Term of Year 9, all students are introduced to Kudos, a Careers Guidance Program which comprising of assessment test linked to interests and job suggestions which will assist the eventual choice of both GCSE & AS Levels.
In November during the Christmas term the Year 11 student's undertake take mock examinations which are followed up by one to one guidance interviews designed to help preliminary decisions about AS and A2 Level courses. Further investigation and a second interview take place with Tutors and subject Heads of Department where required.
Work experience is an important part of career exploration and students are asked to spend some time on this at the end of Year 11, the object being to relate experience to potential career options.
Throughout a student's time within the Sixth Form they have access to many interesting guest speakers from the world of work. This provides up to date information and the opportunity to discover more about a range of profession's. Guest speakers also cover alternative pathways such as apprenticeships. In Years 12 and 13 students are encouraged to use enrichment time for regular work experience for example working at local primary schools, GP, accountancy firms, outreach to local primary schools as well as veterinary shadowing and volunteering.
Careers Events
During the two years spent in the Sixth Form, students attend a number of events designed to help their career planning, including a structured visit to the Careers Centre and a series of seminars on diverse career fields. Practice interviews for students are offered by the local RAF Officers from Cranwell. A Higher Education Conference takes place in the summer term for the Lower Sixth students at a local university to formally introduce the UCAS process.
Careers Experience Courses
If at Carre's for GCSEs, pupils are expected to undertake one week of work experience in the summer holiday between Year 11 and Sixth Form years. This is invaluable in bringing realism to thinking about the world of work and is increasingly looked upon by employers and university admissions as evidence of maturity and motivation.
During the Sixth Form there are opportunities during the holidays for students to attend courses specifically aimed at informing about particular careers. These are run by professional bodies and commercial concerns for school pupils. Students are encouraged to make effective use of them.
Student Destinations
Student destinations refers to the placement or provision taken up by students at the end of Y11, 12 or 13
The 2020 leavers fall under the Raising the Participation Age legislation, requiring all leavers to stay in learning until their 18th birthday. The table below shows those students who left statutory education in 2020 and their level of participation as at 1st November 2020. This is shown against the county figures for comparison.

NB: From December 2020 LA Table Data
Carre's Grammar School retains students well. In 2020, 87% of our students continued into our Sixth Form.
Student destinations after 16 to 18 (2017 leavers)
Students reaching the end of 16 to 18 study in 2017 and staying in education or employment for at least 2 terms after this.
Students progressing to education or employment
Students that left 16 to 18 study at this school in 2017, who either stayed in education or went into employment from October to March the following year or stayed in an apprenticeship for at least 6 months. The data published in January 2020 is for all students that left 16-18 study at this school in 2017, regardless of the qualification that they took.

NB: Total number of students: 124
As the most recent publicly available data is for 2017 leavers, please see the graph below for data relating to destinations of Year 13 students leaving in the academic years ending July 2018 to 2020.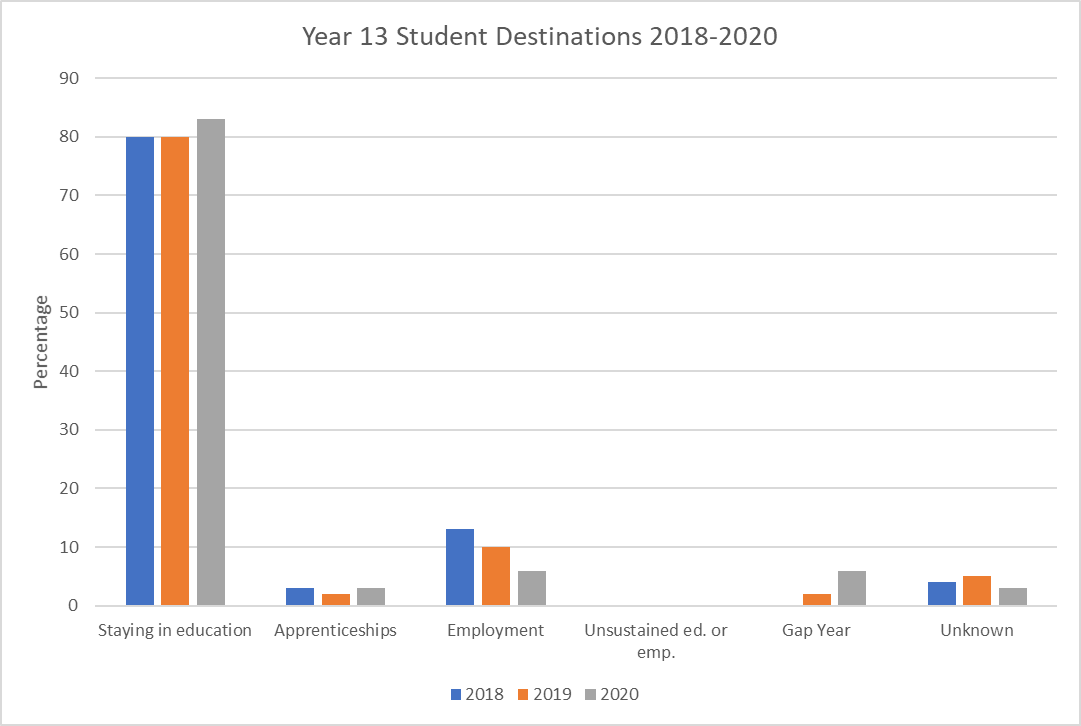 UCAS
UCAS is the Universities Centralised Admission System for degree courses at universities and colleges. Tutors keep in close touch with their tutees about their hopes and potential, discuss options in depth, and guide tutees through the relevant application procedure. All pupils will have a briefing on how to apply through UCAS Apply (internet application). Students, with their parents, will be introduced to these at the Higher Education and Gap seminar held each year by the Head of Sixth.
The Tutor and Head of Sixth will prepare the Students' academic and personal reference. In addition to the student's interview, the Tutor can also arrange mock interviews in preparation for the real thing. When A Level results are known, the Tutor and Careers staff will be available to help any pupils who may need it.