News - Home
Young Human Rights Reporter of the Year
Published:
2011-03-29 11:10:00 |
Category:
LYJA
---
A member of the Young Journalist Academy, from Carre's Grammar, has been short-listed for the coveted 'Young Human Rights Reporter of the Year'.
Children across the UK, aged between 7 and 14 years old, were asked to write 200-250 words on a human rights story. It could have been from personal experience (eg bullying or what it's like to be a refugee) or their interpretation of a human rights news story.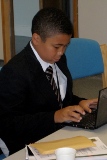 Conor has been invited to attend a journalism workshop at the Guardian Newspaper and a special ceremony at the Amnesty Headquarters on the 19th May.
Conor's story was based on the experience of Holocaust survivor, Hanneka Dye, who he interviewed when reporting on Holocaust Memorial Day.
[Young Journalist Academy - 17 March 2011]
Conor's story follows:
Human Rights - by Conor Thompson
Well first, what exactly are Human Rights? Well, as the name may describe, they are the rights which all humans possess and are entitled to. I believe that breaches of human rights occur on and on throughout the world and even here in Britain. Not so long ago, I was given the honour and the privilege of interviewing and getting to know a survivor of the Holocaust. Her name was Hanneke Dye and she was two at the time when the war ended in 1945. After listening to a long detailed talk about her time growing up, I then got the chance to ask her some questions from the heart.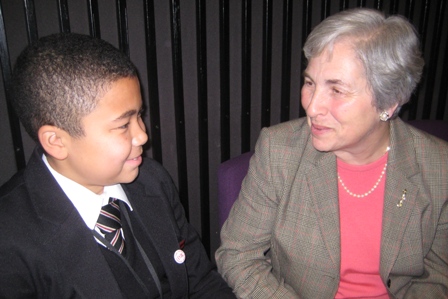 I really had to show a lot of empathy and I had to put myself in her shoes because it would have truly been such an awful experience for her. She described how she came very close to death having been hidden away in a vacuum cleaner box in her attic. The interview was extremely thought-provoking and afterwards human rights came across my mind and it made me think: If Human Rights had been established before the Holocaust, would some of the events that took place really of happened? The question will remain unanswered for many years to come, but in my personal opinion, I am a very strong believer that not necessarily all, but a lot of the catastrophic actions that occurred in the world's past would never have happened. It's obviously better for most people nowadays but you really have got to empathise and also show sympathy for those not as fortunate as us, whether that be those living on the streets or those that potentially lost family to the concentration camps in the past.
Read More News
Use the form below to filter the available news articles. You are able to filter by 'Article Title', 'Article Body' and 'Category' Once filtered click on a artcle to view it. To reset your filter select 'Reset'
Articles 1 to 7 of 7
Rugby VIPs visit Grantham (Category: LYJA, First Published: 08/05/2012)
Famous Film Director visits Carre's School (Category: LYJA, First Published: 17/01/2012)
Local Author returns to Carre's (Category: LYJA, First Published: 08/04/2011)
Young Human Rights Reporter of the Year (Category: LYJA, First Published: 29/03/2011)
WaterAid (Category: LYJA, First Published: 28/03/2011)
LYJA journalists meet holocaust survivor (Category: LYJA, First Published: 28/01/2011)
LYJA journalists meet director of top IT company (Category: LYJA, First Published: 20/01/2011)