News - Home
Prize Giving - Headteachers Address
Published:
2010-09-21 10:42:00 |
Category:
Headteacher
---
At the recent Senior Prize Giving (15th September 2010) the schools headteacher gave the following address:
"Distinguished guests, staff, students, parents, governors, ladies and gentlemen.
"A very special welcome to Stephen Phillips, and congratulations on your recent election to the House of Commons. I am delighted that you were able to accept an invitation to join us in celebrating the success of Carre's, knowing that you are committed and passionate about education and young people.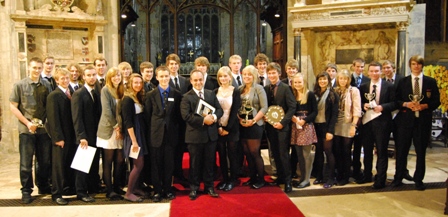 "It is an enormous pleasure and privilege to be standing before you tonight to share in the celebration of what has been an exciting and eventful year. Tonight is about recognising and celebrating the achievements of our students, current and former. We are proud of each and every one of you; to our young people, I say, this is your night, and to our parents I extend a very warm welcome and a word of congratulations too. Your support and encouragement has played a pivotal role in the journey your son has taken negotiating tiers of entry, coursework, resits, remarks and examinations generally.
"A special welcome to my colleagues who, each day, put our young people at the core of school life, who embody our shared values of nurturing the individual, serving our local and global community and encouraging lifelong learning. You are at the very heart of the successes of our young people; you facilitate, inspire, encourage, motivate, enthuse and empower – you help define who and what we are as a school – namely a caring community and a centre of excellence.
"And finally, a welcome to the Governing Body. The leadership of this school is not singular, every teacher has a part to play, our support staff have an important role, and so do the Governors. It has been a year of upheaval in personnel and local politics dominating the town's wider educational community, but with the steady hand of the new the Chairman, Andrew Hutton, and his able lieutenant, Malcolm Robertson, the governors have continued to provide strategic leadership for the school.
"It has been quite a year, and the Chairman has already alluded to some of the challenges we have faced. I should like now to focus unashamedly on our academic achievements of 2009-10. We are proud of the results and proud of our academic ethos, and proud of our status as a Grammar School which is progressive, self reflective, improving and has moral purpose. 2009-10 was an excellent year for student achievement in public examinations.
"At GCSE it is gratifying to report that our students showed improvement on the previous year, with more gaining A* and As - 54% achieving 5 or more A*/A. All but 2 of our students attained the previous government's indicator of 5A*-C, including Maths and English. The results in the Humanities, sciences, and Maths were outstanding, by any measure.
"At A level there were some outstanding achievements. The most notable was Stephen Carey who achieved 2A* and 2As and is heading to Churchill College, Cambridge to read Engineering. There were a further 8 students who achieved 3 or 4 A*/As. Of the cohort around 90% have gone onto University to study a wide range of courses - Medicine, Law, Vetinerary Medicine, Natural Sciences, journalism, management, and various sports-related courses…to name but a few.
"To all our young people here today, I say, we are rightly proud of you; these are exceptional results, results which we hope will provide you with excellent foundations in your professional careers and whet your appetite for lifelong learning.
"But let me be very clear; success is not achieved purely in the 2 years at GCSE and the 2 which follow at A Level. Success, motivation, the foundations of learning are built in the homes, in the local Primary Schools and then fostered, developed and allowed to flourish once they are are in our care. Tonight is about celebrating the achievement of every student, all of whom are not capable of achieving straight A grades but who set themselves realistic but aspirational targets, focus on the future careers and achieve these goals. We have welcomed 40 new students including girls for the first time, and are delighted to have them in our school community. I should like to, on behalf of everyone in the school, recognise how we value highly these young people and the important contribution they make in their 2 years with us to study A Levels. Once again, like the young people who transfer from our Primary Schools, we are respectful and cognisant of the excellent learning experiences provided for them in the schools in which they have enjoyed such success at GCSE.
"We recognise the responsibility and potential with which we, as a growing Sixth Form, are entrusted. We are never complacent, instead we are self reflective; we strive continually to improve on our previous best.
"We, at Carre's, seek to educate holistically and a rich range of complementary activities, encourages our students to set high but realistic goals and then achieve them. I would like to ask Austin Wellbelove, the Deputy Head Boy, but firstly, Luke Tupholme, the Head Boy for Sport, to tell you about these activities.
STUDENTS SPEECHES
"Thankyou to Luke and Austin for the comprehensive overview of what goes on at Carre's beyond the classroom.
"Kurt Hahn the German educator and founder of the Outward Bound Movement encapsulated this empowerment of young people when he said the following:
There is more to us than we know. If we can be made to see it, perhaps for the rest of our lives we will be unwilling to settle for less.
"There is however, uncertainty about what the future holds for us in the education world. The new Education Minister has stated publicly and unequivocally his desire for Academies and Free Schools. This is not the time to open a debate about the various counter-arguments to his deeply held political and social beliefs; I should however like to state publicly that the system we have in Carre's engages young people and their parents meaningfully in choosing the right pathway for our young people. Local schools provide a complementary but different type of curriculum, and a style of teaching and learning for a large numbers of its students. There is an academic pathway to A Level study in the Sleaford Joint Sixth Form, of which we are a part, as well as a more vocationally based one. Young people are not seen as failures in this system; each young person is valued and an appropriate curricular pathway established to align with aptitudes, interests and career aspirations. Our vision in the school is clear and shared by all our stakeholders. We do and will continue to have the welfare and futures of each of our young people at the heart of all we do. Our values permeate everything we do and support us in ensuring each young person reaches his/her potential. Clarity at Ministerial and Departmental level is now required; our young people deserve a bright, clear future.
"The leadership of this school recognises the need to offer students a relevant, modern, progressive fit-for-purpose curriculum based, not on governmental targets, but instead on the interests and aspirations of our students and the needs of the local and global economy. With this in mind we have introduced Engineering into the curriculum and will be introducing Food next year, and increasing the technology available to our students. The new building, with its extended Fitness Suite and Food facilities will help us to deliver on this.
"The world is changing at an incredible rate, and I witnessed this at first hand in May when I visited China. With 2.3 million Chinese graduating from China's Universities each year, qualifications, progressive thinking and finding our place in the global economy has never been so crucial. China is building the equivalent of the National Electricity Grid every 10 weeks; China is building capacity in all areas. Government here must decide how best to allow successful schools more autonomy, ring fence less money and allow leadership teams of schools to set their own priorities. By all means audit what we do and hold us accountable, but, in an attempt to make the education system more efficient, Government must not put at risk our effectiveness. There is a golden opportunity for politicians to listen to schools and put money where it is needed, directly into the schools' budget from where students can benefit immediately and we can create the foundations on which real capacity can be built allowing the UK to play an important role in the global economy.
Staffing changes.
"Mr David Findlay,the 2nd in the English Department has secured a promotion to become Head of English at Malling School, Kent, after 8 years with us. He has made a significant impact in his time with us, inspiring countless boys and extending their interests beyond the classroom, for example, with the Lincoln Young Journalist Academy, and as editor of the Carrensian. Mr John Garnett, Director of the MFL Faculty, is leaving teaching to pursue other interests after 10 years with us. A real gentleman, he has been an excellent role model for the students and has driven the faculty forward during his time at Carre's, created a strong link with a school in Senegal through the Dreams and Teams project, and enriched the lives of many, showing them that there is life beyond Sleaford! Mr John Kyte has retired, having been with us for 19 years. He has been variously a Geography teacher, Head of Business Studies, House Master, Head of Year and latterly Assistant Headteacher. He has been a support for countless young men, and their parents, over the years, as well as a pivotal member of the Senior Leadership Team.
"We wish all of our staff well, whether it be in their retirement or new life.
"We welcome new staff…………
"Mrs Sally James, the new 2nd in English arrives from Skegness Grammar School. Ms Emily Chaddock, hasjoined us as Head of Geography from the Priory School, Lincoln. Mrs Emma Albuixech, who has spent 10 years teaching in Spain, has taken over the reins in the MFL Faculty, joining us from Skegness Grammar School.
"We wish them well as they begin their time with us at Carre's.
"Carre's goes from strength to strength, building upon the success of my predecessors, and I hope that I shall be able to celebrate more success with you this time next year and for many a year to come. It will become increasingly difficult for grammar schools in the next few years and we must do all that we can to promote what it is that we do well – academic excellence, sporting prowess, modernisation, whilst maintaining the traditional Carre's ethos. Academies, federations, lack of funding – all will test our existence in a hugely competitive market. It is time to encourage creativity and innovation, real risk-taking that encourages independence of thought and educational and emotional nourishment without the fear of being beaten with the stick at the drop of a few places in a nonsensical league table constructed by the results of tests inconsistently marked. For, as we all know, education in its broadest sense is much more than technology, buildings and exam results, it is all about people and relationships…..As W. B. Yeats once said "Education is not the filling of a pail but instead the lighting of a fire". I trust it is clear tonight that the fire and the appetite for learning burns brightly in Carre's.
"We have had another excellent year – our students today are a credit to us and I have no doubt, will continue to be so.
Read More News
Use the form below to filter the available news articles. You are able to filter by 'Article Title', 'Article Body' and 'Category' Once filtered click on a artcle to view it. To reset your filter select 'Reset'
Articles 1 to 18 of 18
Senior Prizegiving - December 2016 (Category: Headteacher, First Published: 05/01/2017)
School Awarded the RAF Recruiting and Selection Partner Award (Category: Headteacher, First Published: 30/06/2015)
Curriculum Changes (Category: Headteacher, First Published: 16/04/2015)
Formation of a Multi Academy Trust - Information Evening (Category: Headteacher, First Published: 14/01/2015)
Consultation - Formation of a Multi Academy Trust (Category: Headteacher, First Published: 17/12/2014)
Emergency School Closure (Category: Headteacher, First Published: 19/12/2013)
Industrial Action (Category: Headteacher, First Published: 23/09/2013)
Junior Prize Giving - 23rd July 2013 (Category: Headteacher, First Published: 12/08/2013)
Prize Giving - December 2012 (Category: Headteacher, First Published: 15/02/2013)
Emergency School Closure (Category: Headteacher, First Published: 08/12/2012)
Results of Parents' Survey - 2011-12 (Category: Headteacher, First Published: 24/07/2012)
Olympic Torch Wednesday 27 June 2012 (Category: Headteacher, First Published: 29/05/2012)
Proposed Changes to the School Day (Category: Headteacher, First Published: 22/05/2012)
Olympic Torch Relay (Category: Headteacher, First Published: 02/04/2012)
Prize Giving - Headteachers Address - December 2011 (Category: Headteacher, First Published: 06/01/2012)
Recognition from London 2012 and our allocation of free tickets (Category: Headteacher, First Published: 09/12/2011)
Emergency School Closure Procedure (Category: Headteacher, First Published: 02/12/2011)
Prize Giving - Headteachers Address (Category: Headteacher, First Published: 21/09/2010)