News - Home
World Cup success
Published:
2010-06-23 09:02:00 |
Category:
Sport
---
Signs Express (Lincoln) has continued its support within the community with sponsorship of a special Soccer Stars World Cup day.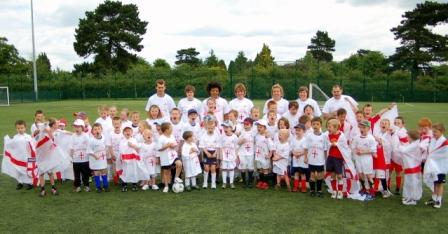 Having produced several large banners, along with internal and external signage for Carre's Grammar School, two Signs Express World Cup t-shirts were presented to two of the football coaches as part of a current promotion from Signs Express (Lincoln). The Football Development Manager Matt Evans, was suitably impressed with the t-shirts and thought it would be a great idea if something similar could be presented free of charge for the children. Signs Express (Lincoln) who currently sponsor the player of the day trophies offered to sponsor the event and helped purchase 50 t-shirts for the children that attended the day.
The event was a great success with all the children proud to show their support for the England World Cup team by wearing their t-shirts and flags. Afterwards they enjoyed a picnic in the sunshine with a World Cup quiz. Signs Express (Lincoln) are giving away more England flags for winners of their World Cup quiz. No purchase is necessary. See www.facebook.com/signsexpress for details or call in to their office for a quiz sheet. Soccer Stars football training is for 4-11 year olds and is held every Saturday on the all weather pitch at Carre's Grammar School.
Read More News
Use the form below to filter the available news articles. You are able to filter by 'Article Title', 'Article Body' and 'Category' Once filtered click on a artcle to view it. To reset your filter select 'Reset'
Articles 1 to 18 of 18
Lincolnshire Young Disabled Sportsperson of the Year Nominee (Category: Sport, First Published: 13/11/2017)
Lincolnshire Young Disabled Sportsperson of the Year Nominee (Category: Sport, First Published: 13/11/2017)
Student Represents Great Britain at the World Triathlon Championships in Chicago. (Category: Sport, First Published: 12/10/2015)
Hopkins Crowned National Champion (Category: Sport, First Published: 21/07/2015)
Troop Marches On! (Category: Sport, First Published: 03/07/2015)
Student Collects Bronze Medal in Angling Trust National Event (Category: Sport, First Published: 30/06/2015)
Sports and Alternative Games Day - Friday 22 May 2015 (Category: Sport, First Published: 19/05/2015)
Student Plays Golf for England against Scotland (Category: Sport, First Published: 16/09/2014)
Student selected to play for the England Schools Golf team (Category: Sport, First Published: 03/07/2014)
Archery Update - Chris Brown - 16 July 2013 (Category: Sport, First Published: 17/07/2013)
Schools Golf Championship Victory (Category: Sport, First Published: 13/05/2013)
Olympic target for Chris (Category: Sport, First Published: 23/04/2013)
Primary School Sport Outreach (Category: Sport, First Published: 12/03/2012)
Olympic countdown at Carre's (Category: Sport, First Published: 28/03/2011)
Boston Fixtures Postponed (Category: Sport, First Published: 09/12/2010)
U13 School County Tennis Finals (Category: Sport, First Published: 13/09/2010)
World Cup success (Category: Sport, First Published: 23/06/2010)
Carre's Year 7's Compete in Regional 5-a-side Football Championships (Category: Sport, First Published: 07/02/2010)