Students
Remote Access - Office 365
Remote Access - Office 365

As a Student of the Robert Carre Trust you are entitled to free copies of Microsoft Office 365. During your time at the Trust you can install Microsoft Office 365 applications on your PC, Mac , Smartphone or Tablet.
NB: Once you leave the Trust you will no longer be licenced to use these applications and must remove the applications or register with a new account. Any files saved within your Office 365 account will also be lost so please ensure you have copies of all important files before leaving the Trust.
How Do I Download the Software?
As a Robert Carre Trust Student you already have a Microsoft Office 365 account, follow the procedure below to install Office 365 applications on your personal device:
NB: DO NOT follow this procedure on a Trust device.
Browse to https://www.office.com (or 'Google' for 'Office 365 Login') and select 'Office 365 Login'
Login with you Trust computer 'username' and 'password' as follows:
Username: [Your Trust UserName]@robertcarretrust.uk (e.g. 9999@robertcarretrust.uk)
Password: [Your Trust password]
Select 'Install Office' then 'Office 365 apps - Includes Outlook, OneDrive for Business, Word, Excel, PowerPoint and more.' From the top right of the Office 365 application icons (see below)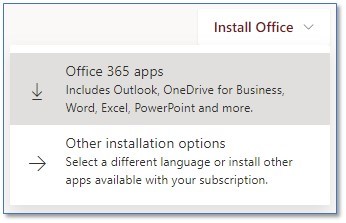 Follow the instructions to complete the installation
You will need to use your Trust computer 'username' and 'password' to authenticate your installation
NB: As you change you password at school this also updates your Microsoft Office 365 password