News - Home
Local Author returns to Carre's
Published:
2011-04-08 13:18:00 |
Category:
LYJA
---
On Friday 18 February, Year 7 students at Carre's Grammar School were treated to an engaging literacy event performed by local author William Hussey.
William visited the school to talk about and perform a snippet of his action packed second book in the Witchfinder trilogy, Gallows at Twilight. The morning was both a fun and historical experience as the boys learnt about the infamous seventeenth century witch hunter Matthew Hopkins. Students were eager to know more about the author's life, the tortures suspected witches were subject to and the future of Witchfinder's main character.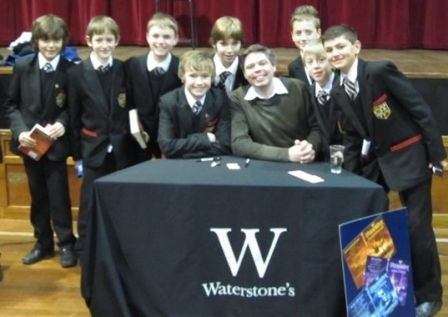 After a lively question and answer session and a book signing, William took a live call from Radio Lincolnshire to talk about the rise in popularity of teen fiction. His visit was a catalyst, inspiring the students to read for pleasure.
Read More News
Use the form below to filter the available news articles. You are able to filter by 'Article Title', 'Article Body' and 'Category' Once filtered click on a artcle to view it. To reset your filter select 'Reset'
Articles 1 to 7 of 7
Rugby VIPs visit Grantham (Category: LYJA, First Published: 08/05/2012)
Famous Film Director visits Carre's School (Category: LYJA, First Published: 17/01/2012)
Local Author returns to Carre's (Category: LYJA, First Published: 08/04/2011)
Young Human Rights Reporter of the Year (Category: LYJA, First Published: 29/03/2011)
WaterAid (Category: LYJA, First Published: 28/03/2011)
LYJA journalists meet holocaust survivor (Category: LYJA, First Published: 28/01/2011)
LYJA journalists meet director of top IT company (Category: LYJA, First Published: 20/01/2011)