News - Home
Fitness Suite Awarded Inclusive Fitness mark
Published:
2010-05-27 11:03:00 |
Category:
Fitness Suite
---
Carre's Grammar School Fitness Suite has recently been awarded a prestigious Inclusive Fitness mark by the Inclusive Fitness Initiative (IFI). This means that the facility is much more accessible for disability users including people with visual impairments, hearing impairments, learning disabilities, wheel chair users and people with health conditions.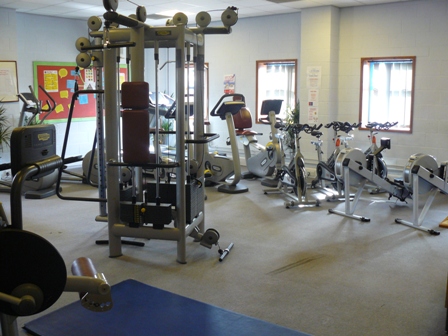 Staff have attended training courses to be able to offer a more inclusive experience for its members, the equipment has been adapted so that members with disabilities can have a full body work out and changing rooms have been modified so that members can access changing and shower facilities. New signs have also been erected with clear font and bold colours.
To celebrate this achievement Carre's Grammar School Fitness suite are offering an open weekend to show off the changes. This will take place on Saturday 5 and Sunday 6 June between 9 am and 3 pm.
Nigel Stephenson, Health and Fitness Manager said "I am really keen to offer anyone the opportunity to come and have a look at the changes that we have made to the Fitness Suite and even have a go on a few machines, free of charge. We always try to offer a professional, friendly and non-intimidating experience to all of our community members".
If you would like more information on the Fitness Suite contact Nigel Stephenson on 01529 308742 or nigel.stephenson@carres.lincs.sch.uk.
Read More News
Use the form below to filter the available news articles. You are able to filter by 'Article Title', 'Article Body' and 'Category' Once filtered click on a artcle to view it. To reset your filter select 'Reset'
Articles 1 to 20 of 432
Year 13 GVA Timetable (Category: Exams, First Published: 30/04/2021)
Year 11 GVA Timetable (Category: Exams, First Published: 30/04/2021)
Year 12 Examinations Timetable (Category: Exams, First Published: 31/03/2021)
March edition of the Whole School Newsletter now available (Category: Newsletters, First Published: 12/03/2021)
Year 13 Examination Timetable (Category: Exams, First Published: 08/03/2021)
Year 11 Examination Timetable (Category: Exams, First Published: 08/03/2021)
Easyfundraising at Carre's Grammar School (Category: General, First Published: 05/03/2021)
Community Sport Closed Until Further Notice (Category: Sports Hall, First Published: 06/01/2021)
December edition of the Whole School Newsletter now available (Category: Newsletters, First Published: 21/12/2020)
Carre's is joining TeamMND in support of the MNDA (Category: General, First Published: 17/12/2020)
Christmas Concert 2020 (Category: Music, First Published: 17/12/2020)
Northgate Sports Hall COVID-19 Update (Category: Sports Hall, First Published: 27/11/2020)
Year 11 Mock Examination Timetable - December 2020 (Category: Exams, First Published: 24/11/2020)
Carre's is raising money for the Movember Foundation (Category: General, First Published: 24/11/2020)
November edition of the Whole School Newsletter now available (Category: Newsletters, First Published: 13/11/2020)
Northgate Sports Hall COVID-19 (Category: Sports Hall, First Published: 09/11/2020)
Year 11 Mock Examination Timetable - November 2020 (Category: Exams, First Published: 09/11/2020)
October edition of the Whole School Newsletter now available (Category: Newsletters, First Published: 02/10/2020)
Year 13 Examination Timetable (Category: Exams, First Published: 18/09/2020)
Northgate Sports Hall Re-opening (Category: Community, First Published: 20/07/2020)